Student Handbook
SCHOOL WIDE EXPECTATIONS
We have 3 main expectations at Diamond Valley that all students and staff must abide by.  They are:
Listen and follow directions / Escuche y siga instrucciones
Keep your hands, feet, and objects to yourself / Use las manos, pies, y objetos correctamente
Respect your classmates, teacher, and your school / Respete a los compañeros/as, maestros/as y la escuela
These expectations are posted throughout the school and in every classroom.  They are posted in both English and Spanish.  In addition, all areas in the school have a poster outlining the expectations that are specific to that location, and are also posted in English / Spanish.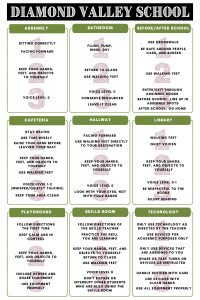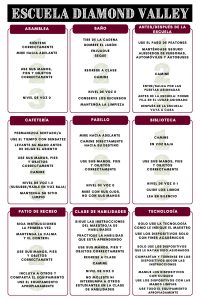 All teachers and school staff members use and follow these three school expectations and can hold students accountable using our School Helps when these expectations aren't being followed.
We believe all students can behave appropriately while at school.  We also believe every student has the right to learn and teachers have the right to teach.  We will allow no student to prevent other students from learning or to stop the teacher from teaching.  The following school helps will be given to each student when a school expectation is not followed:
SCHOOL WIDE HELPS
Warning / Advertencia
Power Chair / Silla de poder
Skills Room / Clase de habilidades
Call home and Skills Room / Llama a casa y clase de habilidades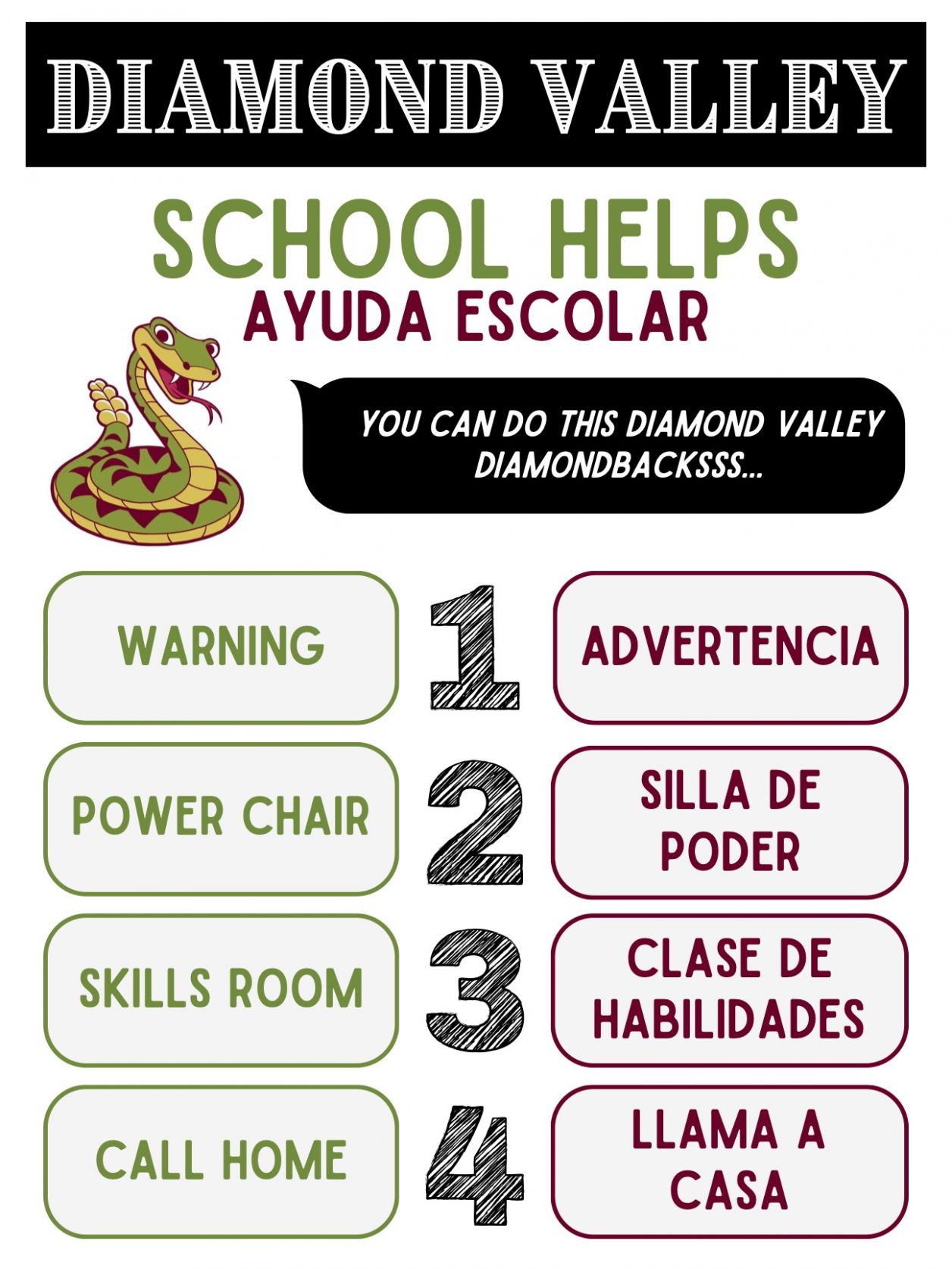 ADMINISTRATION OF MEDICATION
Students should not have in their possession medication of any kind. However, the administration of prescription medications to pupils by school personnel will be permitted with a current prescription and a signed doctor request form. (Available on the WCSD website under  "School Forms") All medications are stored in a locked cabinet, and a record is kept of all medications given. 
DIGITAL TEACHING AND LEARNING
DVES utilizes 1:1 technology for our students. Students will regularly utilize Schoology, a learning management system, as a major tool for their day-to-day learning. Students are required to adhere to the Technology Use Agreement at all times and will be responsible for  any damage caused by negligent care. 
STEAM Exploration Classes
On Fridays, from 9:15-10:00, students get the opportunity to attend a six-week STEAM Explo class of their choosing. These classes are full of hands-on activities focusing on at least one aspect of Science, Technology, Engineering, Art/Music, or Math. Students who do not complete class and homework assignments throughout the week may temporarily have to miss their opportunity for STEAM Explo class by staying in their own classroom until they can complete their missed work.
GENERAL SCHOOL SAFETY 
Diamond Valley is a closed campus school. During school hours, all doors are locked except the front doors to the school. Visitors must check-in with the office before entering the school. Additionally, all gates are locked during school hours to keep unauthorized persons from entering the school campus.
Each month throughout the year our school participates in at least one school-wide safety drill, including: fire/evacuation, lock-down, reunification, secure, and earthquake drills.
SAFE SCHOOLS POLICY
Diamond Valley Elementary School has adopted the Washington County School District's "Zero Tolerance" policy. Zero tolerance means no warnings will be given concerning fighting, play-fighting, harassment of any kind, drugs, weapons, or any violation of the safe school policy.
The following behaviors will not be tolerated and the consequences shall be to suspend or expel students for any of the following violations of basic rules of acceptable conduct including:
1- Frequent or flagrant willful disobedience, defiance of proper authority, or disruptive behavior. This includes the use of foul, profane, vulgar, or abusive language.
2- Willful destruction or defacing of school property.
3- Behavior or threatened behavior that poses a threat to the welfare, safety, or morals of  other students or school personnel or to the operation of the school.
4- Bullying or Cyberbullying (doing something against the will of another, or forcing another to do something against his/her will) including, but not limited to, the following behaviors: coercion, bribery, intimidation, threats, teasing, emotional, physical, or sexual harassment, etc.
5- Behavior that threatens harm or does harm to the school property, to a person associated with the school, or property associated with any such person, regardless of where  it occurs. 
ITEMS PROHIBITED AT SCHOOL
Children should not bring nuisance items to school. This includes: water guns or any type of guns or ammunition real or pretend. Knives, matches, lighters, toys, electronic devices and games, etc. If these items are brought to school (unless under the direction of a teacher), they will be confiscated.
SKILLS ROOM
In addition to learning academics at DVES, we are also committed to helping students develop their Social and Emotional skills. Occasionally, students need a few minutes to take a break and de-escalate from the pressures surrounding them. DVES has a dedicated space in each classroom for students to go so they can learn how to effectively self-regulate their emotions.  Most classrooms refer to this space as their "calming corner."  In addition, with the teacher or staff member's direction, students can also go to the Skills Room.  If students are feeling stress or anxiety or getting frustrated, they are able to go to the area in their classroom and practice healthy coping skills and learn to calm down on their own instead of allowing their behavior to escalate to a point that causes a negative disruption to the rest of the class in adverse ways.  They may also be referred by the teacher to go to the Skills Room to accomplish these tasks.  The Skills Room also is a room used to teach students how to improve their behavior, or a place to finish work, assignments, and or tests in a quiet place.  The Skills Room is available to all students throughout the school day, but students must have a teacher/staff referral to go there.
DRESS AND GROOMING STANDARDS 
Washington County School District dress code policy states: "Students have the responsibility to avoid apparel that causes a distraction or disruption, interrupting school decorum and adversely affecting the educational process. Students must also avoid apparel that is offensive, represents a risk, or threatens student safety."
Students are to follow this policy, in part, by adhering to these guidelines: 
Clothes that are mutilated or immodest are not appropriate for school. Any apparel revealing a bare midriff or bare shoulders, or cut low under the arms, is not permissible,  including when raising arms. Tank tops, without a covering garment or t-shirt underneath are not permissible. Sleeveless shirts must cover from the neck to the outside of  the shoulder. 

Dresses, shorts, skirts, and blouses should be modest in length and not revealing.

No gang-related attire will be permitted. 

Clothing attachments or accessories which could be considered weapons are not allowed. 

Hats are permitted at school, but must be removed when inside the school building.
PRIDE IN DIAMOND VALLEY ELEMENTARY SCHOOL
We are proud of our beautiful building and grounds. Students are expected to maintain pride in the school by not littering the grounds and by not defacing or damaging school property.  Roller blades, inline blades, roller skates, skateboards, and bicycles are not to be used on the school campus at any time. Bicycles are to be parked in the bike rack. Bikes must be walked  off the school grounds when entering or leaving the school grounds.